Click here and get everything in your mailbox for free!
What is the Metaverse:
In 1992, Neal Stephenson coined the term "metaverse" in his cyberpunk novel Snow Crash. The Metaverse was referred to as a shared "imaginary place," which is "made accessible to the public over the worldwide fiber-optics network" and viewed using virtual reality goggles.
In the Metaverse, developers can create buildings, parks, and signs. They can also create things that don't exist in reality. This includes things like vast light shows or special neighborhoods that don't follow the rules of 3D space. People can also go to special combat zones to hunt and kill each other.
We've seen little bits of Snow Crash's description surface (and vanish) over the last 30 years, but now it feels like everything is coming together in one unified vision, with all of the pieces required falling into place.
Virtual Reality is becoming more popular. People are using it for fun, but also for work. Technology is getting better and better. This means that it will be easier to use in the future. VR needs good internet connections to work well, and this is getting better too.
The following definition could be interpreted as defining the Metaverse as both of those things. XR (extended reality VR/AR) with decentralized public trust (crypto) but that's not all.
The Metaverse is about virtual reality, crypto, and open technology collaboration.
Open standards are fantastic… when everyone agrees. I'm not convinced that Marck Zuckerberg will genuinely set up his environment with open cross-application compatibility.
Meta is not the Metaverse
It's hard to conceive that renaming Facebook will have a significant impact on how it has run throughout the years. Facebook built a tool that collects personal data at scale and made its fortune reselling those.
Fortunately, others have taken a more technological approach to think about the metaverse. For them, the metaverse is simply another variation of the internet that incorporates Virtual Reality, Augmented Reality, and blockchain technology.
I consider VR and AR enable are just enablers, and I see blockchain as critical for the Metaverse.
Blockchain technology makes it possible for different software engineers to create new worlds or add to existing worlds. These worlds can then interact with each other.
This is the metaverse, a new era of the internet that feels as though people are really in it and changes with the cosmos we have come to accept. It's always changing.
The metaverse must, by its very nature, be open source. It cannot be created from the top-down by a single firm. This goes contrary to the reason why the metaverse exists. The metaverse must enable any participant to join in their way for it to serve as a place where all VR worlds may be linked together.
This is why Zuckerberg's new strategy is so odd. A towering figure in the centralized monopolistic surveillance internet claims to be able to assist build Web3, a decentralized and open-source internet.
That doesn't mean that the tools developed by a firm holding a monopoly on personal data are ineffective against it.
How about the Chinaverse market?
The metaverse has been called many things, including the next step in social connection, hazardous by design, the future of the internet, and a once-in-a-century business opportunity. Its meaning will no doubt continue to alter. But whether it's future or fad, one thing is certain: China won't be left out of the building
With the same speed as the Silicon Valley, Chinese players are entering new virtual realms. Over 16,000 metaverse-related trademark filings have already been made, and tech giants have been investing in software, hardware, and fundamental infrastructure for a metaverse to exist.
Tencent has started to assemble a Metaverse portfolio of projects. They made a joint venture with Roblox (a famous online gaming company founded by David Baszucki) in 2019. Many themes are covered in this collection, including social, gaming, cloud computing…
Alibaba has been investing in augmented and virtual reality businesses since 2016, with Baidu creating XiRang, and ByteDance increasing its metaverse hardware capabilities by acquiring the VR headset maker Pico. These are just a few of the numerous instances of Chinese businesses looking into the metaverse's potential possibilities.
Beijing, on the other hand, has been ambiguous about it. Despite hints of caution and state-affiliated think tanks warning of national security issues, China's leaders also see the metaverse as a prospective technology that may be used to support innovative technologies.
The most interesting innovation is taking place at the municipal level in China, much as it is in other countries. The Shanghai authorities unveiled that the metaverse would be a component of its 14th five-year plan for developing the electronic information industry, labeling it one of four frontiers for research.
Following this lead, other municipalities, such as Hebei Province and Wuhan City, swiftly followed suit. The metaverse development seminars and talks have been organized by various municipal governments.
Finally, experts believe that the benefits of developing a Chinese metaverse outweigh the risks. Developing key infrastructure for a metaverse, such as development clusters or supercomputing centers, will have beneficial spill-over effects on adjacent technological industries while also boosting economic growth and attracting talent, all without allowing other countries to dominate China's metaverse.
Enjoying this article? Click here and get everything in your mailbox for free!
Digital Experiences pre-Chinaverse
The metaverse has struck a chord with young Chinese consumers, which is why things are moving so quickly. But this isn't entirely new, even before official metaverse apps were available, all of the elements for it existed. The ideas of digital worlds, connections, and value are increasingly accepted as most daily activities are aided by technology.
In the early 2000s, apps like QQ Show were very popular. This app allowed people to create virtual avatars of themselves. However, when new social networks with different designs became popular in the 2010s, many millennials rejected this platform. Now, in the present, 3D avatar builders like Zepeto and Taobao Life have adapted to this trend and given consumers more opportunities to express themselves creatively. These applications have been woven into a far larger social network that reflects their hobbies and habits.
Many young Chinese people enjoy spending time in virtual worlds. In these worlds, they can connect with friends and explore new places.
Consumer Chinaverse attempts:
Jelly is one of those rare cases that made as much noise as Snapchat vs Instagram. Jelly made a lot of noise and had surpassed the leading social networking app WeChat in terms of download on the App Store early this year on few days.
A few days after its release, it has been temporarily taken down by its operator: Beijing Yidian Digital Entertainment Co., Ltd.
This exclusive social outlet, which only allows for 50 pals per user, captured the attention of young people thanks to its stylish character designs and intimate atmosphere.
Users had features allowing them to express themselves, making memes and other digital goods. It takes place like your receive your friends (up to 50) in a virtual apartment and can have fun with them.
I can't help myself to compare this with a physical karaoke in China where young Chinese generations come with their friends for having fun and express themselves by singing.
Young people have used WeChat to socialize, do business, and stay in touch with family. They now want a separate space where they can communicate freely.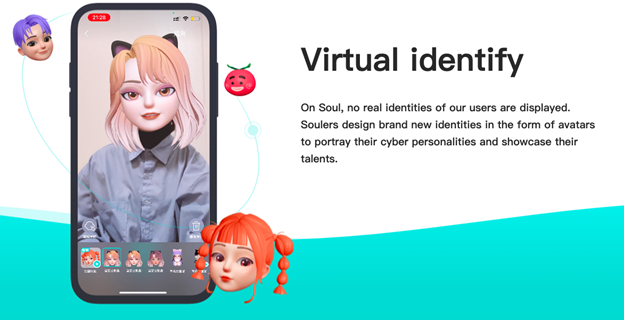 Soul, another widely popular metaverse social networking app. Passion and hobby are two things that bring people together through an algorythm.
It mainly focuses on:
Socialization using an avatar-based (anonymous) platform
Communities based on interests
Content creation tools with plenty of features
Digital Goods / Virtual Craft monetized
For some reason, it reminds me a bit of ChatRoulette and ClubHouse except the whole experience is different. But that aspect of being put in touch in life with some strangers remains.
Connecting the dots and trying to apply the famous NPE Canvas explained by Kima Ventures on Soul would be:

Narrative: Matching for deeper connection in a niche place.
Primitive: Video Chat with Augmented Reality
Enablers: Avatars and virtual good creation
Features like AR-enabled video chats and voice call matching capabilities allow Soul to maintain the thrill of real connections while maintaining trust with its users through the freedom of virtual identity.
Enjoying this article? Click here and get everything in your mailbox for free!
Soul understood that young Chinese generations are craving creativity and exploration.
Where does the Chinaverse go?
The Chinese metaverse differs from existing worldwide digital environments in at least one significant way: governmental regulations are not yet clearly defined. Roblox had even to pause its operations in China.
Many Western applications, on the other hand, prioritize best-in-class features. Chinese apps capitalize on consumers' desire for human contact by appealing to their sense of nostalgia. Even as people interact with avatars or computers, adding a person's voice to an item immediately gives it humanity.
Brands do have expectations
All of these pieces have an impact on businesses. Because existing rules do not allow for the kind of monetization that luxury companies are looking for, luxury brands have been hesitant to join China's metaverse thus far.
There are already tons of agencies ready to craft experiences for them, but it feels like the first static basic website in HTML that was sold a fortune with a potential growth at that time.
Still, there is a crucial need learning curve on one side and a growing demand for a meaningful connection on the other.
From a bigger perspective-taking into consideration how the Chinese web developed itself and how isolated from the West, I envision that the Chinaverse might somehow connect with the West.
Even if history showed that platforms of the West (Facebook, Snap, etc..) couldn't directly reach Chinese netizens, on the contrary, we saw how TikTok grow outside Chinese borders.
In a world where sustainability, carbon footprint reduction, and climate change are global issues I wouldn't surprised to see a few experiences from the real world shifting to the Metaverse.
Imagine what the Guangdong Fair would look like? Bringing 200 000 visitors taking places back and forth to meet 25 thousand suppliers with stands from another genre.
The aspect of no or reduced monetization may appear as a deal-breaker but not for an open-source and decentralized Internet as it was originally intended.
In my first blog post that was relating to the Third Industrial Revolution, I was mentioning Tim Berners Lee's innovation: the World Wide Web protocol was made out of an altruistic mindset, hoping to connect people instead of creating a market for platforms collecting data to accumulate wealth.
Internet was supposed to be open and free but it went off-road, The Chinaverse might be the correction needed. Internet as it was supposed to be.
Have any tips you want to share? Let me know or reach me out on Linkedin